Hello Pinksnouters today we want to introduce  ​an extravagant japanese L.A. based artist called Twotom , whose artworks are ​a collections of cards and tarots featuring Arcanes boys, Fashion boys, Ideal  boys and so on
First of all ​Twotom how do you define yourself and your art? Tell us a bit about yourself and your personality.
I was born in 1976 and I grew up in countryside of Japan.
When I was kid, I was always watching TV, doing jigsaw puzzle, drawings girls with ribbon and dress.
And I was an enthusiastic James Dean fans. I collected his posters, books and I drew a lot.
Since then I started dreaming to go out from my country to see my real prince charming.
Then I decided to move to Paris when I was 20.
What is your background? How long have you been a working artist and who were the first artists that inspired you?
First in Paris, I went to fashion school. I was very surprise about the almost boys of classmate were gay, and I felt very natural to be in and really happy to know them. Because I have never met gay people when I was in Japan. It was very new and made me reborn my second life.
After a short time I discovered gay club and bar, magazines, artist, specially when I found "Tom of Finland" in bookstore, I was really shocked! Super erotic but they look like so happy and funny!! what's this!?
But I was not yet thinking of my art work, I was just an ignorant student.
When did you first know that you wanted to be an artist? What attracted you to it? is this your main activity?
I launched my own fashion brand "TWOTOM" in 2003 after assisted a couple of fashion designers. But also I worked as an illustrator for some fashion magazines, shop windows, shop cards and collaboration for a few designers. So it became naturally to present my art work.
Actually I've been living in Los Angeles since 2015 summer, and I enjoy a lot this opportunity and big place, this city makes me more creative mood.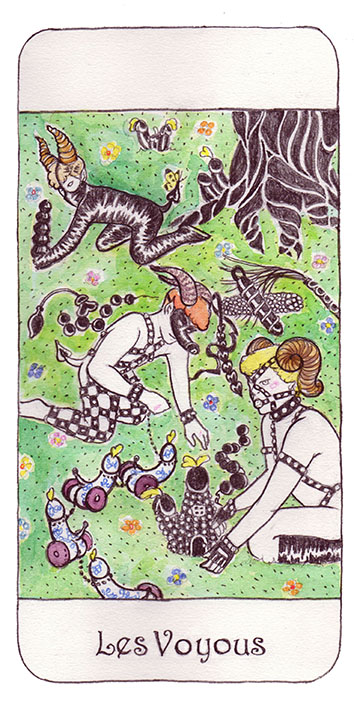 How do you come up with ideas for your projects?
I love to look old child book, animals & insects photos, painting of the middle ages, mens costumes & uniforms, and gay vintage pictures, posing of porno star. Then I mix all together in my head.
You use bring an added sense of humor, surrealism and sexuality. What made you focus on it?
The sense of humor come from based my memories of childhood of 80s' idols &songs, TV show, movies and Japanese manga. It helps me making a strange gap between my sexual fantasy.
Tell us about the homoerotic imagery in your artworks. Do you purposefully present queer content in your works or Is it more something that comes naturally to you as an artist.
I love gay arts, but I am not interested showing huge dick or sex and penetration in my work. I don't need to be too much gay. I prefer hiding beauty like a innocent world, I just love to represent with some gay details (S&M, leather and some symbols as like banana and mushroom). Romantic and pervert could be beautiful poetry when you mix.
How do you resonate with the term queer?
It's my starting point to be free style between complex.
Is there something autobiographical in your illustrations?
Every boy I drew came from all my fantasies, so I'm in love with them.
They are myself, but my mind is changing every single day, so they are my passed dreaming boys, now I'm looking for others forever in my all life.
What next projects are you working on?
Actually I'm writing a story with many of drawings, it's like "The little Prince" but it's more Twotom's version, fancy erotic fairly tale. I prepare to show up in my blog soon in Japanese, but I really want to translate in English for the future. so please to be patient!!
Check out more artworks here http://www.twotom.fr/
Facebook http://www.facebook.com/twotom.land
Instagram @twotomland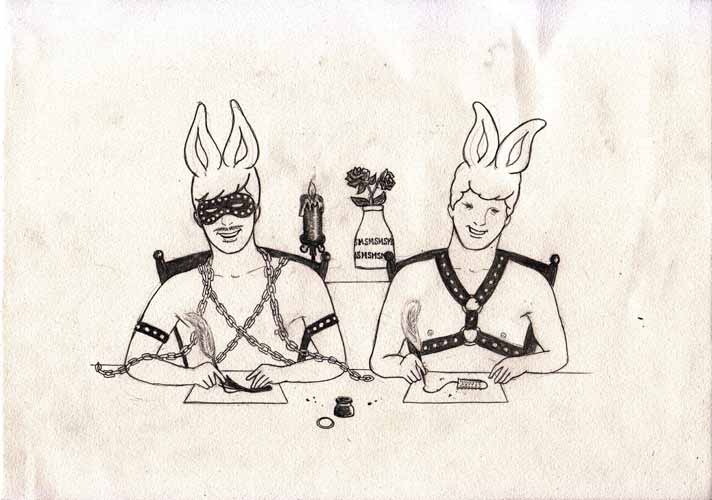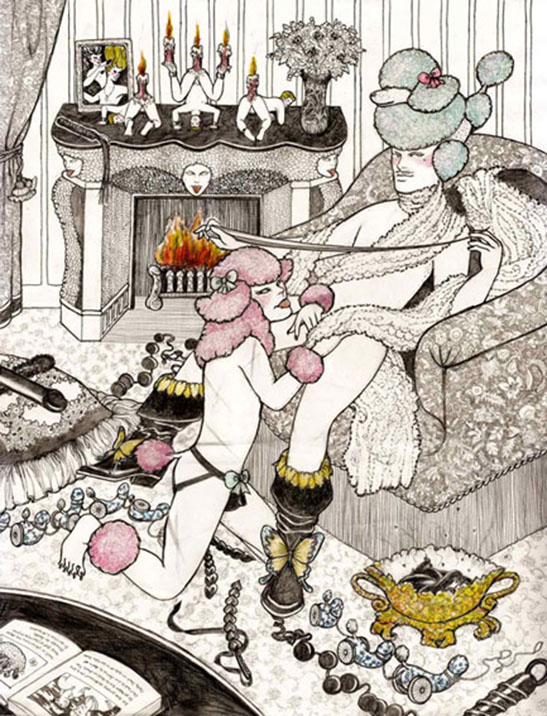 Check out more artworks here http://www.twotom.fr/
Facebook http://www.facebook.com/twotom.land
Instagram @twotomland