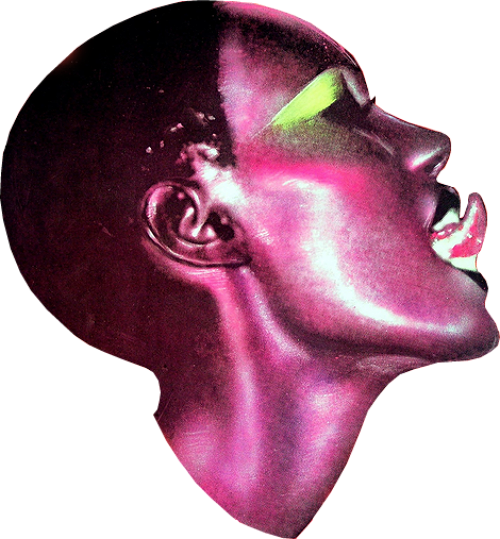 Music video by Grace Jones performing I've Seen That Face Before (Libertango). (C) 1981 The Island Def Jam Music Group
Beverly Grace Jones (born 19 May 1948) is a Jamaican singer, actress and model. She was born in Spanish Town, Jamaica and raised by her grandparents. At 13 she moved with her siblings to their parents' home inSyracuse, New York. Jones started out as a model, initially in New York state, then in Paris, working for Yves St. Laurent, Claude Montana, and Kenzo Takada, and appearing on the covers of Elle, Vogue, and Stern working withHelmut Newton, Guy Bourdin, and Hans Feurer.
In 1977 Jones secured a record deal with Island Records; with the aid of Compass Point All Stars she moved intonew wave in 1980. She scored Top 40 entries on the UK Singles Chart with "Pull Up to the Bumper", "I've Seen That Face Before", "Private Life", "Slave to the Rhythm" and "I'm Not Perfect". Her albums include Warm Leatherette (1980), Nightclubbing (1981), and Slave to the Rhythm (1985).
She appeared in some low-budget films in the U.S. during the 1970s and early 1980s. Her first mainstream film was the 1984 fantasy-action film Conan the Destroyer alongside Arnold Schwarzenegger, and the 1985 James Bondmovie A View to a Kill. In 1986 she played a vampire in Vamp, and acted in and contributed a song to the 1992Eddie Murphy film Boomerang. She appeared alongside Tim Curry in the 2001 film Wolf Girl.
In 1983, Jones's One Man Show was nominated for a Grammy Award for Best Long-Form Music Video. For her work in Conan the Destroyer, A View to a Kill, and Vamp, she was nominated Saturn Awards for Best Supporting Actress. In 1999, Jones ranked 82nd on VH1's 100 Greatest Women of Rock and Roll, and in 2008, she was honored with a Q Idol Award. Jones influenced the cross-dressing movement of the 1980s and has been an inspiration for artists, including Annie Lennox, Lady Gaga, Rihanna, Brazilian Girls, Nile Rodgers, Santigold, andBasement Jaxx.
more: http://en.wikipedia.org/wiki/Grace_Jones
Grace Jones, nome d'arte di Grace Mendoza (Spanish Town, 19 maggio 1948), è una cantante, compositrice, modella, attrice eartista giamaicana.
Regina della disco-music (I Need a Man, 1977), tra gli artefici della fusione tra la disco-music e il reggae, Grace Jones legò il suo successo anche alle rivisitazioni in chiave disco di alcuni evergreen: il suo maggiore successo discografico venne infatti nel 1978con la sua versione de La vie en rose di Edith Piaf; nel 1981 ripropose invece il classico di Astor Piazzolla Libertango (utilizzato nella colonna sonora del film Frantic), reintitolato I've Seen that Face Before (Libertango).
Dopo Pull Up to the Bumper del 1981 (che rimase per sette settimane al n. 2 della classifica Hot Dance Club Play e si piazzò nei primi 5 singoli della U.S. R&B chart.), un altro suo successo originale fu Slave to the Rhythm del 1985 prodotto da Trevor Horn; l'anno seguente incise I'm Not Perfect (But I'm Perfect for You), prodotto da Nile Rodgers degli Chic e nel cui video parteciparono anche Andy Warhol e Keith Haring, che disegnò una grossa tela poi trasformata in enorme gonna indossata dalla Jones. Haring collaborò con lei anche dipingendola per alcune esibizioni al Paradise Garage, discoteca in voga della New York anni ottanta che tutto il panorama artistico newyorchese (tra cui lo stesso Haring) era solito frequentare.
Nello stesso periodo collaborò con gli Arcadia, per il cui singolo Election Day la Jones interpretò una strofa con la sua caratteristica voce in recitativo. Beniamina dei radical chic di New York, e, guidata dal teorico dell'arte kitsch, Jean-Paul Goude, intese la disco-music come colonna sonora del futurismo.
Degna di nota è stata la sua carriera di attrice cinematografica con ruoli di buon successo tra cui la ladra Zula in Conan il distruttore, la spia-killer May Day in 007 – Bersaglio mobile, l'eclettica testimonial Helen Strangé ne Il principe delle donne e soprattutto il vero e proprio cult quale la regina dei vampiri in Vamp. Da citare anche la sua partecipazione a numerosi spot pubblicitari, in particolare quella della Citroen CX 25GTi turbo, in cui guidava l'auto sfoderando tutta la sua prorompente e aggressiva sensualità. Le sequenze dello spot, inoltre, facevano parte del video del suo brano Slave to the Rhythm.
Ha partecipato al Festival di Sanremo 1991 abbinata alla canzone Spalle al muro di Renato Zero, la cui versione in inglese si intitola Still Life, che ricalca il testo originale, concludendo con gli ultimi versi in italiano.
Ritorna nel 2008 con l'album Hurricane, che riscuote un buon successo di critica.
Music video by Grace Jones from her album Hurricane (2009)
Lyrics:
Pleased to meet you, pleased to have you on my plate
Your meat is sweet to me
Your destiny
Your fate
You're my life support, your life is my sport
I'm a man-eating machine X2
You won't hear me laughing, as i terminate your day
You can't trace my footsteps, as i walk the other way
I can't get enough prey, pray for me X2
(I'm a man-eating machine)
Corporate cannibal, digital criminal
Corporate cannibal, eat you like an animal
Employer of the year, grandmaster of fear
My blood flows satanical,
Mechanical, masonical and chemical
Habitual ritual
I'm a man-eating machine.. X2
I deal in the market, every man, woman and child is a target
a closet full of faceless nameless pay more for less empitness
I'll make you scrounge, in my executive lounge
You pay less tax, but i'll gain more back
My rules, you fools
We can play the money game
Greedgame, power game, stay insane
Lost in the cell, in this hell
Slave to the rhythm of the corporate prison
I'm a man-eating machine…
I can't get enough prey
Pray for me
Corporate cannibal…
Digital criminal…
I'll consume my consumers, with no sense of humour
I'll give you a uniform, chloroform
Sanatize, homogenize, vaporize… you
I'm the spark, make the world explode
I'm a man-eating machine, i'll make the world explode
Corporate cannibal…