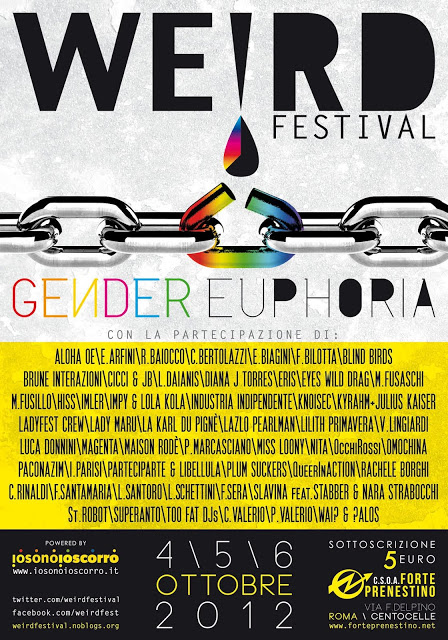 "E venne il giorno in cui il rischio di rimanere chiuso in un bocciolo divenne più doloroso del rischio di sbocciare." – Anaïs Nin
Il 4-5-6 ottobre 2012 presso il Forte Prenestino, storico centro sociale di Roma, avrà luogo WEIRD festival – Gender Euphoria, evento che segue le edizioni del convegno "Io sono io scorro: identità trans, intersex, lesbica e gay", tenuto nei due anni passati presso la Facoltà di Medicina e Psicologia dell'Università "Sapienza" di Roma.
L'esperienza all'interno della cornice accademica ha segnato, per noi, una prima importante tappa di un percorso che ha come obiettivo quello di mettere a confronto le differenti culture del panorama LGBTIQ.
Da qui nasce la nostra esigenza di aprire uno spazio per discutere insieme di corpi, desideri e identità. Promuovere un dibattito che si nutra di diversi approcci e apporti, che si muova tra psicologia e spettacolo,
antropologia e politica, letteratura e cinema, cercando di allargare la nostra riflessione dagli ambienti universitari a un contesto sociale.
L'obiettivo del Festival è far circolare pensieri ed esperienze che, superando le banalizzazioni e i luoghi comuni, possano parlare insieme delle mille potenzialità dei corpi.
info e programma : http://weirdfestival.noblogs.org/
Diana B. Torres
Eyes Wild Drag
Gioielliere- Kyrahm Kaiser
Nara
Slavina
"And the day came when the risk to remain tight in a bud was more painful than the risk it took to blossom" – Anaïs Nin
"WEIRD FESTIVAL – Gender Euphoria" will take place on the 4-5-6 of October 2012 at the historic Forte Prenestino Social Center of Rome. The event following editions of the conference "Io sono, Io scorro: trans, intersex, lesbian and gay identity", held in two years ago at the Faculty of Psychology, at the University of Rome "La Sapienza".
The experience within the academic context has marked an important first stage of a journey that aims to restore LGBTI culture to its expressive potential.
WEIRD Festival is intended as a time for discussion, study and sharing of queer issues, during three days the theoretical experience will meet a performative dimension through workshops, theater, performance art, film and video, photographic exhibitions, book presentations and music concerts.
The intent is to give voice to the LGBTI scene in all its subversive potential, opening spaces within one of the most important Social Centers of Roman and Italian underground culture, and acting as a real alternative to the bigoted, homophobic and commercial mainstream culture.
WEIRD Festival, following paths that intertwine with each other, such as the relation of body and identity, between the secret and the public, between the intimate and the political, will be the point of encounter and exchange between the realities of the Italian and international LGBTI scene.
more info : http://weirdfestival.noblogs.org/